Freight railroads have played a transformational role in the development of America — revolutionizing transportation and catalyzing the country's economic development for almost two centuries. Today, America's freight railroads serve nearly every industrial, wholesale, retail and resource-based sector of the economy, operating over a network of nearly 140,000 miles. Together with their counterparts in Cana​​da and Mexico, North America's freight railroads form the world's most efficient, cost effective and reliable freight rail system in the world.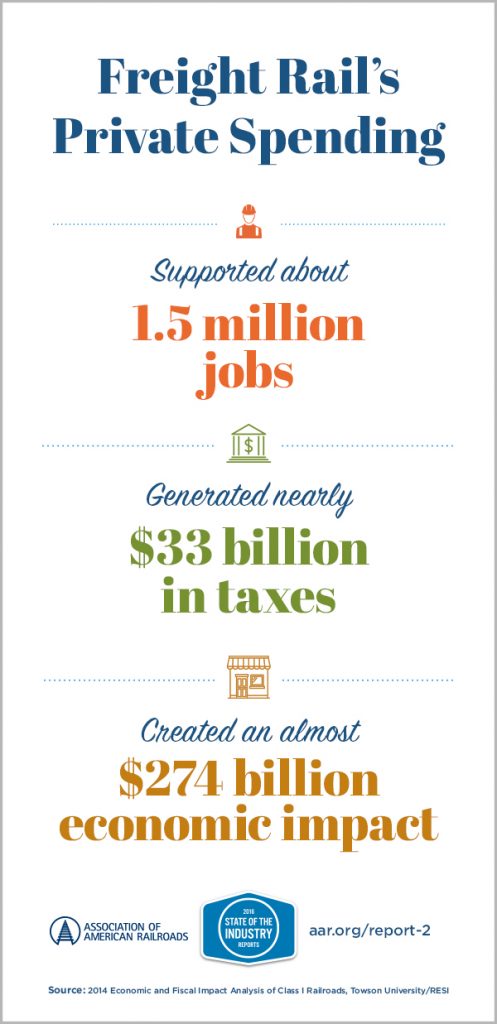 U.S. freight railroads are overwhelmingly privately owned and operate almost exclusively on tracks the railroads build and maintain themselves. From 1980 to 2016, railroads spent more than $630 billion of their own funds on locomotives, freight cars, tracks, bridges, tunnels and other infrastructure and equipment to keep the economy moving. In 2015, America's freight railroads spent more than $30 billion to sustain and enhance their nationwide network.​ ​​​​
THE TOWSON UNIVERSITY REPORT
For the first time ever, major freight railroads' economic impact on America's economy has been quantified — and it's huge. According to a new study from Towson University's Regional Economic Studies Institute (RESI), freight railroads' private infrastructure and high wages generated nearly $274 billion in economic activity across the country in 2014 alone.​  ​​​
The study is the first of its kind. It directly measures the effect of investments by major U.S. railroads on the overall economy, including their impact on employment and tax revenues, and provides a lens into railroads' positive influence on local economies. Examining what they called freight rail's "wide footprint on the economy," the RESI researchers analyzed the impact of the nation's seven major Class I railroads with U.S. operations.​

Key Findings
In 2014, Class I railroads spent nearly $28 billion in capital and maintenance expenditures, an amount equal to more than half of all federal government spending on transit formula grants, federal highway construction programs and airport improvement programs. Freight railroad generated nearly $274 billion in economic activity — or 1.6% of total U.S. economic output. Additionally, they supported nearly 1.5 million jobs across the country; generated nearly $33 billion in total federal, state and local tax revenues, which helped build schools, pave roads and pay for teachers, police and firefighters; and  created almost $89 billion in total wages
ADDITIONAL BENEFITS OF FREIGHT RAIL​ROADS
Delivering Global Competitiveness: Railroads haul approximately one-third of all U.S. exports, allowing American industry to be more competitive in the worldwide economy.
Providing Affordable Freight Transport: Adjusted for inflation, average U.S. rail rates fell 43% from 1981 through 2014. That means the average rail customer today can ship nearly twice as much freight for about the same price it paid more than 30 years ago.
Increasing Fuel Efficiency: On average, railroads are four times ​more fuel-efficient than trucks.
Reducing Pollution: Moving freight by rail instead of trucks reduces greenhouse gas emissions an average of 75%.
Lessening Highway Congestion: A train can carry the freight of several hundred trucks — reducing highway gridlock, the cost of maintaining existing highways and the pressure to build expensive​ new highways.
Download the Full Report at the Association of American Railroads website